News
04/24/2019 10:05 AM
-
LETHBRIDGE, AB - The Lethbridge Bulls have re-signed 3B Dylan Borman out of the University of Arkansas at Monticello (NCAA Division II).
With just under a month until the Bulls kick their season off in Edmonton on May 25th, the roster has begun to shape into its final form. With the announcement of 2018 WCBL Rookie of the Year, Kaleb Warden re-signing with the team on Tuesday, his teammate at the University of Arkansas at Monticello, 3B Dylan Borman followed along. The two big time sluggers have become stars for the Bulls over the time they have spent with the club, batting third and fourth in the line-up regularly.
Borman will be entering his third season with Lethbridge and will be looking to build off of what he accomplished a year ago when he batted .282, while clobbering seven home runs and driving in 35 RBI in 44 games.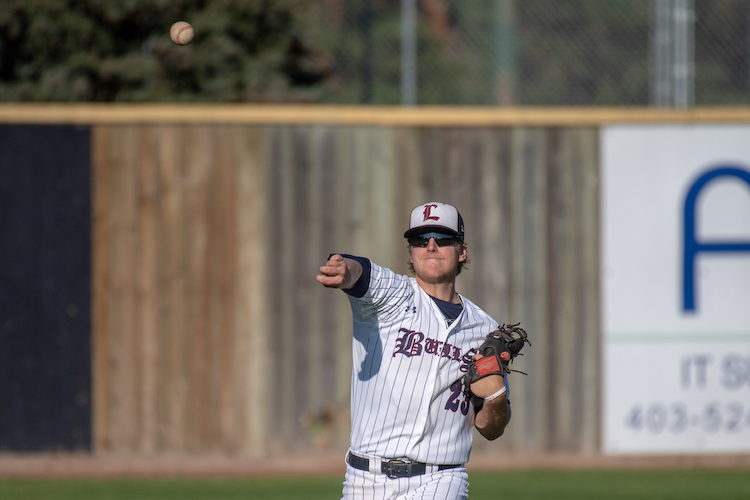 (Photo by MPP Photography)
Currently playing for the University of Arkansas at Monticello Boll Weevils, the Camrose, Alberta native batted .268, with 8 home runs, and 33 RBI during regular season play for his college club, very impressive numbers to say the least.
Borman will be the Bulls regular third baseman as the season rolls around and will bat in the middle of the order considering his power and ability to drive in runs. He will be looked upon to stabilize this dangerous line-up, which will be looking to compete for a WCBL Championship this year. The Bulls begin their season on the road before heading home for the VisitLethbridge.com Home Opener on May 30th against the Fort McMurray Giants.