News
02/27/2019 10:13 AM
-
LETHBRIDGE, AB - As baseball season stands only three months away, the Bulls have continued shaping their roster for the 2019 season, announcing the signings of pitchers Jordan Parranto and Cal Theal from Niagara University (NCAA DIvision I).
With much needed pitching help, the Bulls made a move that will look to improve their staff for the upcoming season. The two pitchers will look to compete for a job at the back-end of the Bulls bullpen, hoping to provide some much needed help in that area, as the team posted a combined 5.54 ERA in 2018. That's not to say they won't compete for a job in the starting rotation, as nothing is set in stone as stated by Head Coach, Jesse Sawyer.
(P Jordan Parranto)
The Sherwood Park, Alberta native - Parranto, is in his fourth year with the Niagara Purple Eagles, and will enter his second season in the WCBL, where he last pitched in 2016 with the Edmonton Prospects. An injury last year set Parranto back, but believes he is fully healthy as the Niagara Purple Eagles season is in full swing, and hopes a year of pitching in the summer gets his arm back to where it needs to be.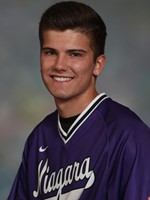 (P Cal Theal)
Theal hails from Niagara Falls, Ontario and is currently in his first year with the Niagara Purple Eagles. The freshman pitched in the Canadian Premier Baseball league a year ago and put up tremendous numbers, having been amongst the top in ERA. With a bright future ahead for Theal, the young righty hopes pitching in the WCBL this summer will improve his abilties.
The two NCAA Division I pitchers join fellow Niagara Purple Eagle, and second year Bull, Ben Erwin on the roster for 2019.
With a first round exit in last years playoffs, the Bulls aimed improve their pitching staff for the 2019 season, and this move proves their headed in the right direction to compete for a WCBL Championship. Parranto and Theal have both proved they can pitch at an elite level, and bringing a champiionship back to Lethbridge is something that will be on their minds as the new season rolls around.
The Bulls season begins May 25th in Edmonton, as they take on the Prospects in a two game set before heading home to face the Fort McMurray Giants in the VisitLethbridge.com Home Opener May 30th.
Season tickets are now available and can be purchased by clicking here.
Keep up to date with Lethbridge Bulls player signings by checking out BullsBaseball.com every week, or by following us on social media.