News
01/07/2019 1:30 PM
-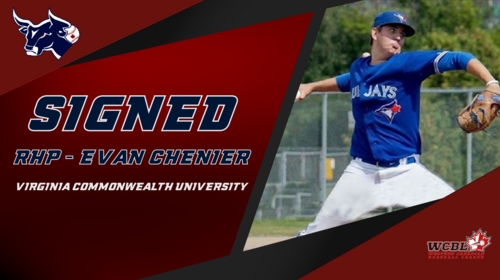 LETHBRIDGE, AB - The Lethbridge Bulls have signed RHP Evan Chenier out of Virginia Commonwealth University (VCU), an NCAA Division 1 school located in Richmond, Virginia.
Chenier was a long-time member of the Ontario Blue Jays program, before moving onto VCU. During his time with the Blue Jays, Chenier became a dominate force on the mound throwing a Perfect Game at the 16 & Under level before defeating the Houston Banditos in the 2017 WWBA World Championships in Juniper, Florida, where he threw 5 innings, allowing 3 hits and striking out 6 batters.
The hard throwing righty will look to be a vital arm for the Bulls this upcoming season, which begins May 25th in Edmonton as they take on the Prospects for a two-game set, before heading home for the VisitLethbridge.com Home Opener against the Fort McMurray Giants, May 30th.
2019 season tickets are now available and can be purchased by clicking here.