News
06/15/2016 12:59 PM
-
The Lethbridge Bulls are very excited to be hosting the "Meet the Bulls Camp" this July. From July 4th – 7th register your son or daughter for a chance to meet up to 20 Bulls players during the 4 day camp. Each day a new set of Bulls players will be at the camp to help instruct and teach the young campers the fundamentals of baseball. Along with the Bulls coaching staff as lead instructors this is sure to be a fun, informative camp for all ages.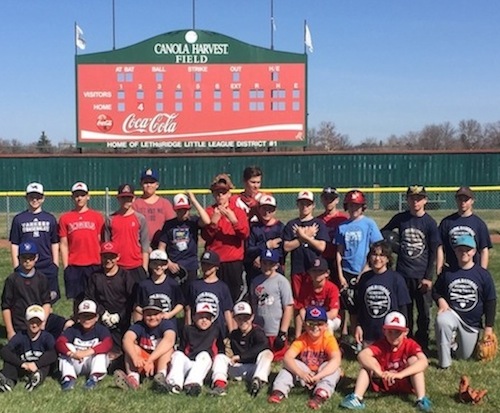 On July 4th all the campers will have a chance to shag batting practice on field with the Bulls before their night game against the Medicine Hat Mavericks at 7:05pm. It is always an unforgettable experience to get on the field and watch how the Bulls swing the bats before each game. Your registration in this camp also gets all campers a ticket to this game.
We encourage any kids ages 9+ to register for this camp. We will work on the basic fundamentals of all areas of baseball. Our key focuses will be on: infield/outfield work, proper throwing mechanics, hitting and pitching. The coaching staff does their best to keep the camps fun and informative for the youngsters.
The camp will be $250 dollars for 20 hours of on field instruction 9:00am to 3:00pm each day. The camp will take place at Spitz Stadium. If there is an issue with weather we will move over to the indoor facility at Lloyd Nolan Yard. With your registration you will receive 1 ticket to the July 4th Bulls game at Spitz Stadium. Additional tickets can be purchased for $10 each when you register for this camp online. To register online please click here. You will see a tab at the top of the page that says Youth Camps and you will need to select the "Meet the Bulls Camp." Our TCMM Camp (pictured below) on May 27th attracted more than 100 campers!

If you would like to register in person you can stop by the Spitz Stadium office or contact Kym Barthel at [email protected] or 403-320-2025.