News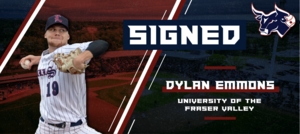 02/04/2020 10:39 AM
-
LETHBRIDGE, AB - The Lethbridge Bulls have announced the signing of returning player, Dylan Emmons out of the University of Fraser Valley.
Emmons returns for his second season with the Bulls after joining them late in the summer of 2019 where he sported an ERA of 3.15 with 31 strikeouts in 34.1 total innings, including two outstanding appearances in the playoffs, where he tossed a total of 12 innings, allowing zero runs.
The right-hander, who currently attends the University of Fraser Valley projects to start the year in the Bulls starting rotation once the 2020 Western Canadian Baseball League season rolls around.
The Bulls season begins May 28th in Fort McMurray, as they take on the Giants in a four-game set before heading home to face the Brooks Bombers in the VisitLethbridge.com Home Opener June 4th.